Nothing is more annoying than a humble brag posturing as a blog post. You've played a Top 100 golf course, and you're sharing it with us by profiling said course! Thank you! The good news for you, my humble readers, is that I have not played a Top 100 course to crow down to you about. Nope.
But yeah, I totally landed a tee time at Moraine Country Club for next month and I'm pretty happy about it.
But in the name of journalistic integrity, as well as my own genuine curiosity, I sought out more information on Alex "Nipper" Campbell, the Scottish pro who designed Moraine. Namely: "What else did he do?"
The one-hit wonders of golf course architecture hold an appeal in their "what if." What if George Crump had spread his apparent talents wider, rather than just dying over Pine Valley? Why couldn't Henry Fownes have just done one more, away from Oakmont?
Moraine may be one tier below these courses, but not by far. The "mystery" of Crump and Fownes is relatively easy to put a lid on: "Sure, they could have created other world-class courses, but they didn't." Campbell and Moraine is more mysterious, because the golfer designed several other courses, none of which compare to his peak. "One-hit wonders" happen frequently in the music business, where one great album simply doesn't translate into the future. We're biased…but it seems that golf course architecture shouldn't work that way.
Shouldn't brilliance that resulted in a monument like Moraine have shown its face at other locations?
Campbell's other offerings around the Dayton area certainly display some quirk, and no doubt the years have removed features that may better display Campbell's skill.
Don't worry: This isn't a post attempting to claim Alex Campbell did not design Moraine Country Club. Rather, it's an attempt to claim that Campbell's hands were involved in the creation of several other courses…clubs more noteworthy than the majority of his remaining discography.
So here are several other courses where Campbell may have had a hand, and where he hasn't received his due for it. From most likely to least likely: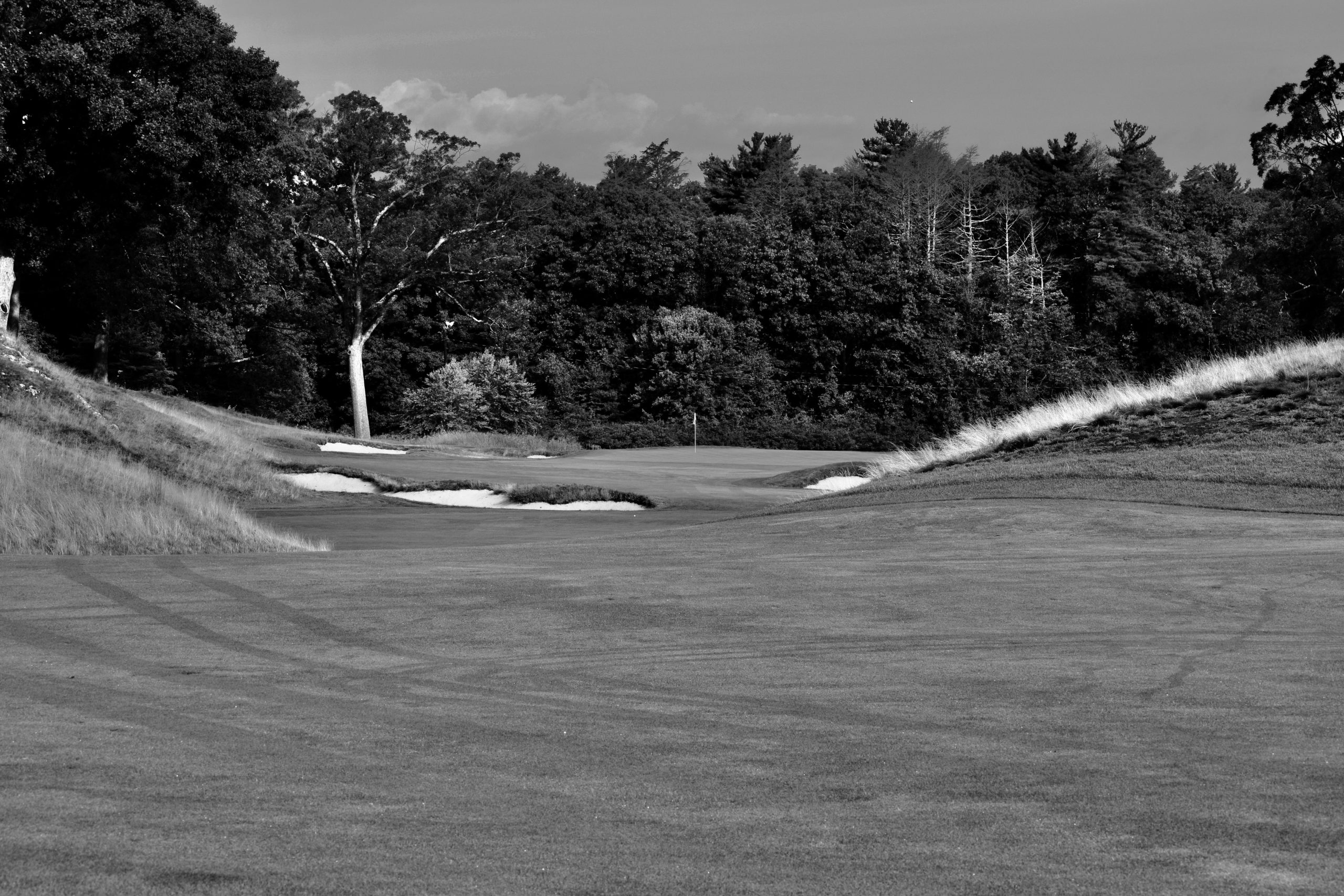 One of the finest fours in American golf. And who designed it, I wonder? (Photo Cred: BPBM)
The Country Club
Alex Campbell's hand in The Country Club (Brookline) has generally been limited to his role as head golf professional. At a more granular level, he is often recognized for recommending his pupil, Francis Ouimet, take part in the 1913 U.S. Open at the club, where the caddie pulled off an upset victory over Harry Vardon and Ted Ray. Campbell first came to the United States after accepting the head professional position at the club, and remained in that role for 16 years (1899 until 1915).
Oddly, he hasn't been celebrated as a contributor to the course's acclaimed design. Which is odd, as legitimate sources suggest he played a significant role in the course's current design.
Part of the issue is that we, as a culture, struggle to comprehend the multiple authors concept. With the exception of The Beatles, it's difficult to accept that multiple greats can contribute to one greatness. This tendency creates hazards when attempting to understand the lineage of great golf courses, many of which have featured the tweaks and thoughts of multiple architects across many years. Few courses have had as many cooks in the kitchen as Brookline.
The original six-hole loop was created by members and none of that primitive route remains. Which brings us to Willie Campbell, who added three new holes (the most complete of which is the current par three at No. 7) and presumably improved the rough six set out by membership. And then he left to become head professional at Franklin Park (now William J. DeVine Golf Course), the second-oldest public in the country.
That's a total of nine holes, at what was an 18-hole facility when William Flynn arrived to add the Primrose nine during 1927. The question then is both when and who added the additional nine to the now Clyde and Squirrel courses?
Fortunately, we don't need to dig too far. Journalist John de St. Jorre completed The Story of Golf at The Country Club during 2009, and won the Herbert Warren Wind literary prize in the process. He wrote that the club added "eighteen and a half acres, bounded by Clyde and Newton Streets" during April of 1898, allowing it to expand to an 18-hole route. St. Jorre noted that Willie Campbell wasn't available for the work. The property seemed to sit, according to St. Jorre's narrative until a new pro showed up. "This was Alexander 'Nipper' Campbell, and as new terrain became available, he would be pressed into service as a course designer."
Even more relevant than acknowledging Campbell's work is acknowledging what part of the property he contributed to. Even if he had literally worked on only the 18.5 acres, this implies that he contributed the par fours at No. 3, 4, and 5. I poked fun at humble bragging in the opening to this post, so I apologize, but let me tell you: This trio is the finest three-hole stretch that I have played. GOLF magazine ranked No. 3, a long par four riding between hilly swells toward the property's pond, among the Top 100 holes in the world. No. 4 is a matchplay masterpiece, featuring a blind tee shot up a steep grade to glory (sounds like a Scottish tack to me), followed by No. 5, which is slept upon mightily, merely for having followed such splendid holes.
Campbell shouldn't get all the credit; club member Herbert Windeler has been hailed as a forgotten hero in assisting the construction of the new 18. This 18 is the defining base for what is now played during the Clyde and Squirrel route and, despite the contributions of greats such as Flynn and Gil Hanse, it would seem some combination of Alex Campbell and Windeler had the greatest fingerprint on that course.
That narrative has not seeped into the popular conscience for whatever reason. Check out any number of course information platforms, and the only Campbell you'll see is "Willie."
Realistically, Moraine may not even be Nipper's best design. That course may be a long way from his longtime home of Dayton, in Boston, MA. Campbell's involvement prognosis: Indubitably!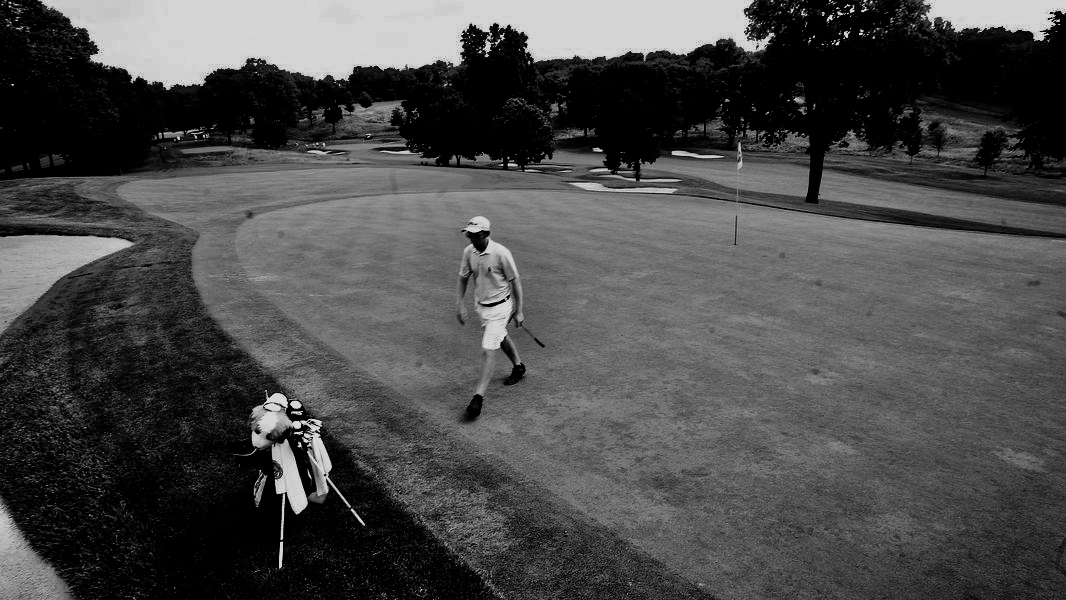 Walking off a putting surface at Miami Valley, the golfer wonders to himself who he has just danced with. (Photo Cred: The Dayton Daily News)
Miami Valley Country Club
Donald Ross may have designed 400-something courses but the internet would have you believe that he created 4,000. Although Florida is ground zero for every-random-course-claiming-to-be-designed-by-Ross, there are numerous faux Rosses existing across the country. Ohio certainly ranks among the most Ross-dense states, so you may assume that I'm about to claim Miami Valley Country Club — a Dayton-area layout that hosted the final matchplay PGA Championship — is not actually a Ross.
Let me immediately assure you that it is, indeed, a Ross.
That said, how pure of a Ross? Perhaps not as pure as they're selling. Of the feedback I've received for Miami Valley, the greens are always the highlight. I'll quote Streamsong Red/Blue superintendent Kyle Harris:
"The greens are superb," he said. "The course more than makes up for a tame tee-to-green presentation with putting surfaces that demand precision due to fall-offs and edges that confound the golfer at all angles."
Harris is a tough pickle, so I take him at his word on this. And indeed, his description definitely sounds like something Ross could do. And most sources indicate he did. But, as usual, the thorn in accepted history is newspaper clippings offering confounding insights.
Campbell first travelled from Boston to work as a professional at Baltimore Country Club, and then over to Losantiville Country Club in Cincinnati, and then up to Miami Valley. It seemed he immediately began work upon arriving at the club.
Specifically, on the greens.
To read from The Dayton Daily News during Spring of 1925, he was leading a project to rebuild the greens at Miami Valley, switching from fescue to bentgrass, just six years following the course's opening. This aside in the article on Miami Valley reads "the rain has also thrown back the work on the new creeping bentgrass greens at the Miami Valley club…these new greens give promise to be the best in the country."
Campbell is mentioned by name within that article, but a September article in The Dayton Herald, preceding an exhibition match between himself and three prominent amateurs, featured the professional encouraging the writer to build up the putting surfaces at Miami Valley. "Alex Campbell, professional at the Miami Valley Golf Club, commented in his strong Scotch dialect 'and don't forget to tell them about the fine greens they will see.'"
The proof offered in these quick clips is a long way from definitively stating that the current greens at Miami Valley are Campbell, and not Ross. But the logistics of building greens during the '20s makes it a significant possibility. I reached out to architects who I often bug for industry insights, inquiring the likelihood that Campbell would or could have recreated Ross's greens. "Not well at all" was the best response, noting that while putting surfaces could be conceptually recreated, the level of technology required to carry out full restorations was far from its current state, and that's assuming the club had access to detailed sketches from Ross for the project. If a professional had been at the course for years and played countless rounds, perhaps they would have memorized a fairly accurate representation of the green. But Campbell hadn't. He had only arrived at the onset of that year.
Although the work at Brookline is much more significant than anything at Miami Valley, this may be the hottest take from this post: Miami Valley may be a Donald Ross course…with Alex Campbell greens.
For the sake of transparency, Harris also denied any similarity between the putting surfaces at Moraine and Miami Valley, which he played on the same day. For the sake of further transparency, I also didn't bait him with why I was asking. Campbell's involvement prognosis: Likely!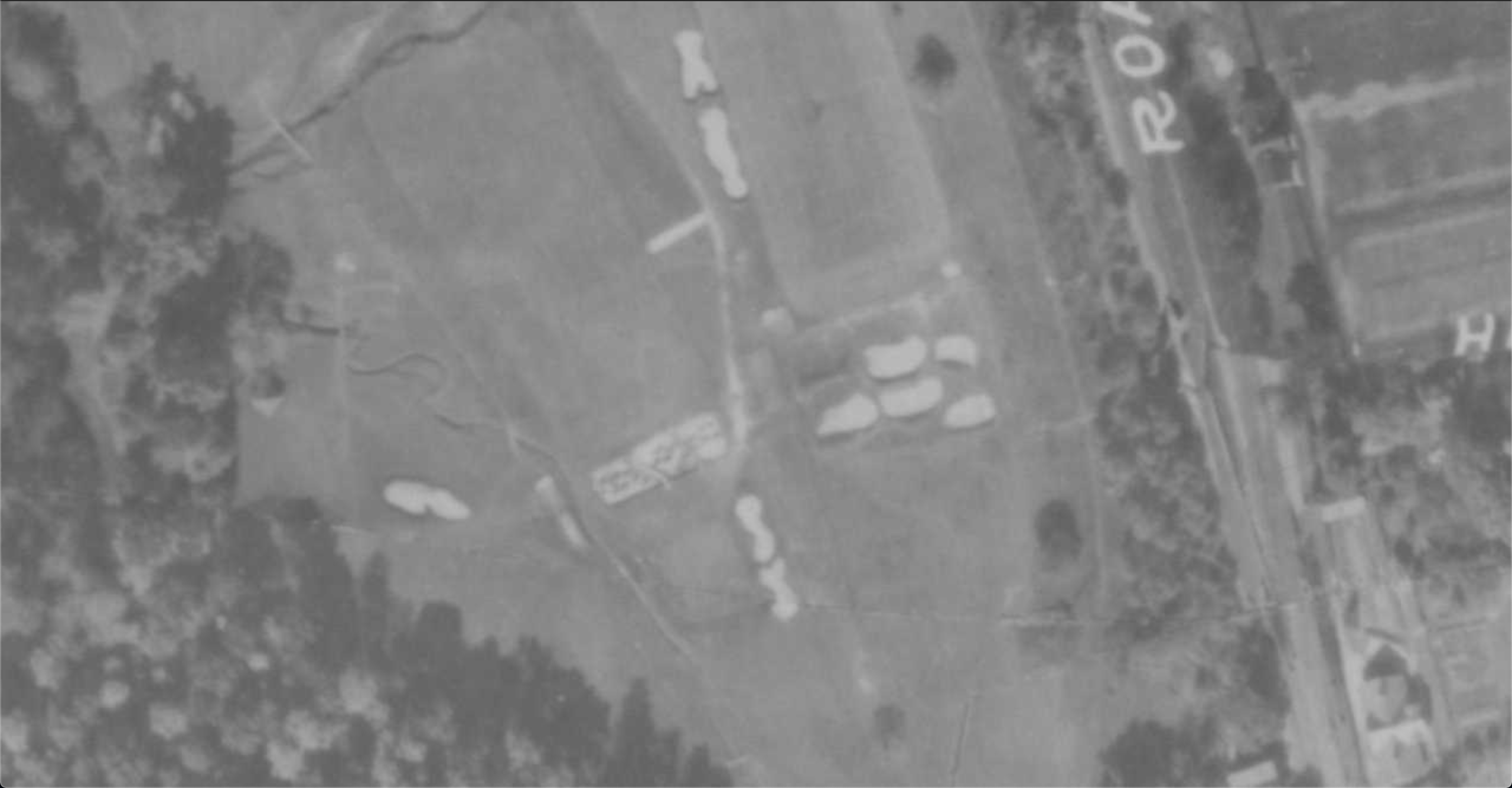 A 1927 aerial at Baltimore Country Club's Roland Park course. Look like any particular architect to you? (Hint: It doesn't look like Alex Campbell) (Photo Cred: John Hopkins University)
Baltimore Country Club
Breathe easy here…as with so many clubs that now host championship courses, the Baltimore Country Club began modestly. Those who fascinate over the current Tillinghast Five Farms course (and, to a much lesser degree, Bob Cupp's West course) may not even realize that Baltimore originated at its Roland Park campus, which still houses the tennis and squash facility. In fact, this course hosted the U.S. Open during 1899, almost immediately after its founding; Campbell, representing Brookline, was in second place after Day 3, but fell off dramatically during the final round.
Sixteen years later, Campbell returned and served as the head professional at the original Roland Park Golf Course from 1915 until 1919. Is it so wild to consider that he may have tweaked the route where he once came so near to glory?
The route is somewhat shrouded in mystery; at the moment, the head professional over there is still trying to get a hold of the one guy he knows who may have an answer regarding who actually designed that club (actual, current status of my research). It can be assumed by this lack of knowledge that the name is not a Golden Age standard bearer. Therefore it's not too much of a stretch to imagine that Campbell would have seen fit to make amends similar to those listed above. Although the USGA tended to select quality hosts during its early days (Newport, Shinnecock Hills, Chicago and Myopia Hunt hosted the first four U.S. Opens) Baltimore "had been criticized as unsuitable for a major," per a 1999 article from The Baltimore Sun, based on interviews.
That said, even with historic aerials, it wouldn't be easy to find evidence of Campbell's involvement. His relatively small portfolio doesn't give us many definitive assets to seek out. A 1927 aerial certainly has a particular style to it, however. In fact, it looks a lot like Tillinghast, what with a Great Hazard and all. The architect had been in the vicinity at the time, after all, having opened the Five Farms course during 1926.
What insights would a look at Roland Park have into the design career of Alex Campbell, if any? It's unlikely that we'll ever know. But the realistic possibility that Nipper may have tinkered with a fourth major championship host is an intriguing one. Campbell's involvement prognosis: Possible, but nebulous.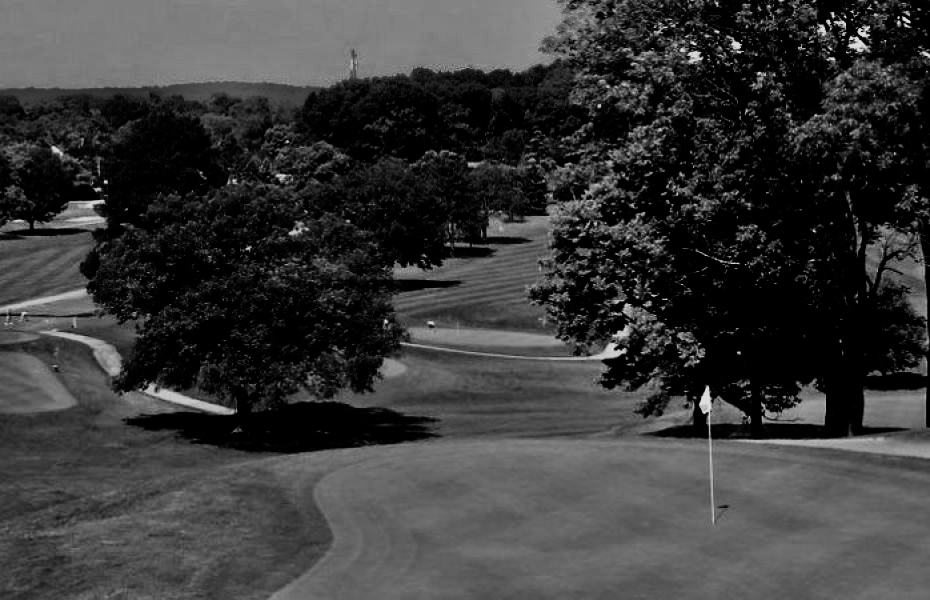 The last bastion of municipal golf in Dayton. (Photo Cred: Dayton Recreation & Youth Services
NCR Country Club
Moraine Country Club sits on perhaps the hottest block for golf in Ohio (the competition is in Pepper Pike, where The Country Club — the one that's not Brookline — and the Pepper Pike Club sit across the street from each other). It's right across the street from NCR Country Club and its major-hosting South Course, a rare Dick Wilson that gathers positive reviews even during 2021.
But here we are, inquiring whether it may have been Campbell who built the original course at NCR, and not Wilson.
OK, we'll acknowledge this section is a ruse: Wilson certainly designed both the South and North Courses at NCR. But he did not, in fact, design the original course at the club.
Many don't realize that NCR moved down to Kettering from its original location, which is now better known as Community Golf Club, the property hosting the only two remaining Dayton municipal routes. Campbell did indeed design the Hills and Dales courses at Community. So does this mean that Campbell designed NCR's original course?
Still no, unfortunately.
Stanley Allyn, president of the National Cash Register Company (yes, that's what NCR stands for), commissioned the first courses built during 1914. No architect's name has been associated with them over the years, but it's fair to say that it wasn't Campbell…he was still at Brookline. The club donated the property to the city during 1918, and Campbell did a renovation not too long after starting at Miami Valley. Campbell's involvement prognosis: Zero chance.
Sorry for having you along for a ride on this one. But the fact still remains, hopefully: Alex "Nipper" Campbell's contributions to golf course architecture deserve consideration outside of just his work at Moraine Country Club.